Welcome back everybody!
Last year, Transportation Services covered a lot of ground. Our buses traveled enough miles to circle the world 23 times last year! We also introduced a new bus tracking system, automatic passenger counting and enabled over a million trips around our campus.  We are truly excited by the opportunity to increase our ridership and serve you this year!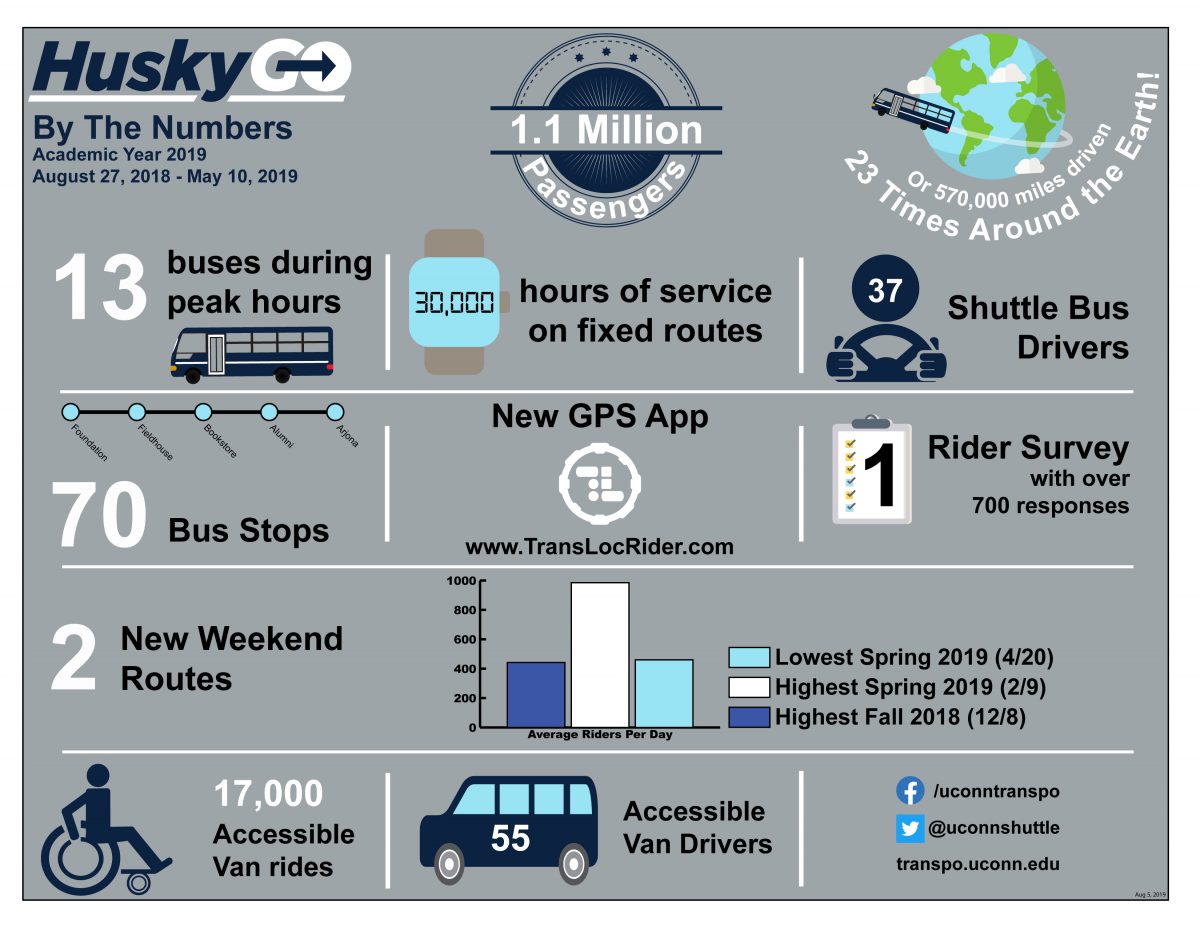 Our fall semester routes and service hours are now available on the UConn Transportation Services website.  You will see that we've kept the routes that worked well, addressed some of the most common students concerns, such as service to Hilltop. In the evening, shuttle service to the parking areas will be provided along a single route – the Parking Express. Other significant service changes were required to accommodate the continued development of the Storrs campus.  Those significant accommodations included providing shuttle service to Lot K on Discovery Drive, the newest parking lot on campus.
Service along the "Hunting Lodge Route", formerly known as the Purple Line, has been transferred to the Windham Region Transit District (WRTD).   Forty-five minute service will be provided along this route during the 2019-20 academic year.  The only real change from last year is that student users will be required to present both their UConn IDs and their U-Passes in order to ride the WRTD bus at no charge.  This arrangement allows the university to focus on the provision of on-campus transit services and to reassign the buses previously used on the "Hunting Lodge Route" back to on-campus routes.
Tracking our shuttles and knowing their on-board capacity is easy using our TransLoc Rider app.  You can even set up the app to notify you when your bus is about to arrive!
Last year's transportation survey results suggested that students prefer to receive important service announcements via the Daily Digest or by email newsletter.  We will use these options to convey important information about our services during the coming year.  Immediate service updates will also be provided via the TransLoc Rider app. Additional information about our transportation services can also be found on our website, Facebook page, and Twitter feed.
All the best during the coming year!
The Parking and Transportation Services team
---