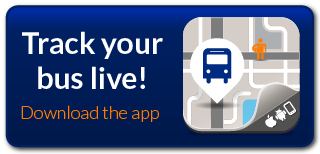 HuskyGo News!
Please follow this link to receive the latest news and major service updates!
HuskyGo Bus Safety Measures
Updated: CTrides for College Students (U-Pass CT Schools)
Lost and Found
If you believe you may have lost something in one of our vehicles, please call 860-486-1448. We cannot be held responsible for lost items.
About Transportation Services
Our mission is to provide safe, clean and timely passenger services to the Storrs campus and surrounding area. We operate a network of shuttle buses, accessible vans, and small vehicles for University students, faculty, employees and visitors. Hours based on the academic year, schedules may change during the breaks.
Connect with us on Facebook and Twitter for live updates!
Transportation Advisory Committee
Statistics and Surveys
Transportation Services conducts surveys and gathers statistics about our ridership. Results of these surveys and studies can be found here.
Contact Us
Phone:
860-486-1448
E-mail:
transportation@uconn.edu
Address:
University of Connecticut
Department of Transportation Services Unit 6199
3 Discovery Drive, Unit 6199
Storrs, CT 06269-6199