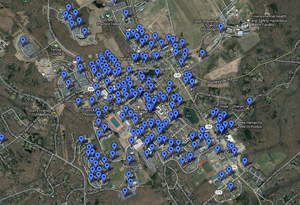 Map of AVS pick-up locations
. Click to enlarge.
General Description
The Accessible Van Service is a free service available to students, faculty, staff and the general public. The service provides safe and timely campus and local transportation. Our accessible vans are equipped with wheelchair ramps, ensuring that all passengers get to their classes, jobs, residences, and activities safely and efficiently.
The Accessible Van Service is only for passengers with temporary or permanent disabilities.  Student passengers with permanent disabilities must register through the Center for Students with Disabilities.  Employee passengers with permanent disabilities must register through the ADA Case Manager in Human Resources.  Passengers with temporary disabilities must have a valid doctor's note to use this service.
To request service or to discuss whether you qualify for the service, please call our main office at (860) 486-4991.
Hours of Operation
Monday – Thursday: 7:00AM – 12:00AM (Midnight)
Friday: 7:00AM – 1:00AM
Saturday: 11:00AM – 1:00AM
Sunday: 11:00AM – 7:00PM
Academic Breaks: (Summer, Thanksgiving, Winter, and Spring Break) we run a limited service with one van running from 8:00AM to 7:00PM, Monday – Friday.
Holidays and Extreme Weather: Transportation Services will be closed on Holidays in which the University is closed and during extreme weather.
How We Operate
The Accessible Van Service has a 8 van fleet offering pick-ups every 10 minutes throughout our hours of operation. There are specific pick-up locations for all campus buildings and local businesses, the details of which can be provided to you by any of our drivers or dispatchers. Additionally, all of our pick-up locations are listed in the "Locations" section below.
There are two ways for permanent passengers to arrange for pick-ups: You may either forward a list of pick-ups that will repeat on a weekly basis, or you can call the Van Line as needed. Pick-ups are available on a first-come, first-served basis. Our "popular" pick-up time slots fill quickly so please attempt to arrange for a pick-ups as soon as possible.
Temporary passengers should call the Van Line each day to arrange for their pick-ups.
No Shows
If a passenger does not show up at a pick-up location within three minutes of the designated time, the pick-up is designated a "No-Show" and the AVS Van will leave for its next pick-up. If you then call needing a ride, please keep in mind that the van may not be able to return immediately. If you No-Show for a pick-up, your return pick-up will automatically be cancelled. No-Showing two pick-ups in one day will result in the rest of your pick-ups that day being automatically cancelled. If a passenger No-Shows consistently after a written warning, his/her van privileges may be suspended. As a courtesy, please inform our dispatcher if you will not be needing any of your scheduled pick-ups, as it may prevent a fellow passenger from obtaining one.
Locations and Boundaries
The Accessible Van Service operates within a 1 mile radius of campus. The Accessible Van Service cannot travel beyond these boundaries. See our map of AVS pick-up locations.
If your pick-up location is not listed on the map, please inquire with our dispatcher to see if your location can be accommodated. (860) 486-4991
Passenger/Driver Relations
Drivers are required to be polite to passengers and we expect the same courtesy from you. If you ever have any complaints about a driver's behavior, please email us at transportation@uconn.edu. Conversely, any passenger who does not display proper conduct may lose his/her van privileges (after a written warning).
Van drivers are required to remain in the vehicle at all times and are only able to exit the van in order to open vehicle doors for passengers when necessary. Van drivers are not able to assist in loading persons or personal items onto the vehicle so please plan accordingly.
Questions
If you have any questions about the service, please feel free to call our main office at (860) 486-4991 or email the Accessible Van Coordinator, Samantha Feliciano.