As a reminder, our summer shuttle services will be suspended on Thursday, July 4th in observance of Independence Day.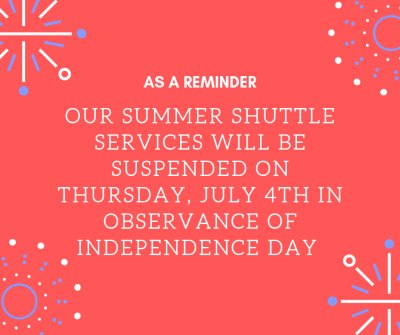 The work to repave Hillside Rd between its Jim Calhoun and Gilbert Rd intersections was completed ahead of schedule.
The regular service hours for the Storrs fixed-route shuttle have resumed.
Today's service (Thursday, June 13th) will continue until 7:00 PM in accordance with our regular schedule.
Thank you for your patience.
Fixed route Shuttle Service on the Storrs campus will end at 5:30 PM next week (Monday – Friday; June 10th-14th). The Accessible Van Service (AVS) will continue to operate normally.
The early suspension of the shuttle service is necessary to accommodate the nightly (6:00 PM – 2:00 AM) construction work required to repave Hillside Road between its Jim Calhoun Way and Gilbert Road intersections.
This section of Hillside will be closed to all traffic during these nightly work periods.